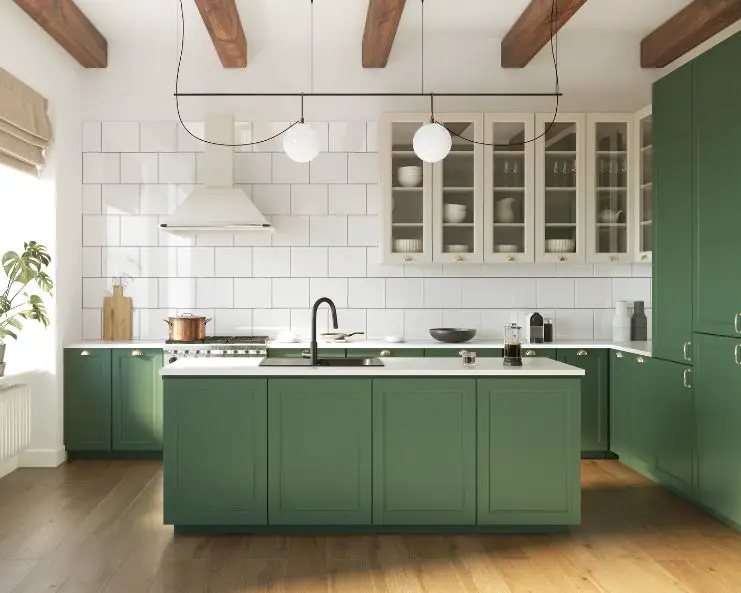 Cabinetry plays a major role in kitchen design. Therefore, you want to select the ideal color for your cabinets. It can be tricky to narrow down the choices, but you can find the perfect shade for your space with the right inspiration. Here are some examples of popular colors for kitchen cabinets in 2023.
Warm Taupe
Taupe is a warm neutral color that you can incorporate into many different types of kitchen cabinetry. One of the best tips for choosing cabinets that match your home design is to consider your kitchen's existing color palette and style. If your kitchen has lots of natural light or bright colors, taupe is a good option to provide balance and add warmth to the space. To create an earthy tone in your kitchen design, choose taupe cabinets with hints of gray or brown for added depth and texture. To incorporate taupe into a room design, pair it with other neutrals like white or black for contrast, add copper accents, and use patterned tiles for visual interest.
Dusty Rose
Another trending color for kitchen cabinets this year is dusty rose. Dusty rose pairs beautifully with various other hues, including whites, grays, and black accents for contrast. For an elegant and timeless look, layer neutrals, such as ivory and cream, alongside dusty rose cabinetry. Alternatively, you can use bolder colors like navy blue or vivid greens to add depth and character to your space. For extra warmth, incorporate natural wood tones or textured fabrics, such as velvet, into your design scheme by adding accessories like rugs or bar stools in coordinating colors.
Deep Navy
Next on the list of cabinetry colors is deep navy. Design ideas featuring deep navy focus on creating contemporary and luxurious looks with bold colors and textures. To incorporate this hue into your kitchen design, pair it with bright whites for contrast, add matte-finish cabinet pulls, and use herringbone tiles. If you're looking for an elegant style, layer ivory or cream alongside dark blue cabinetry. Alternatively, you can use warmer hues, such as rusty reds or olive greens, to add depth and balance. It's helpful to know how to choose between light or dark cabinetry so that you can achieve your desired look.
Earthy Green
And, of course, we can't forget about the rich and stunning earthy greens that are popping up in kitchen designs everywhere. Earthy green helps create a natural and serene space that pairs well with wood tones and textured fabrics, such as linen or wool. To incorporate this color into your design, pair it with other neutral colors, add gold or copper hardware accents, and use butcher block countertops for a natural feel. To add contrast, you can incorporate complementary colors into your kitchen's color palette. Terracotta and charcoal are good options.
Now that you know the trending kitchen cabinetry colors of 2023, you can select the best ones for your space. Don't be afraid to play with hues, textures, and materials to achieve a unique and beautiful design.