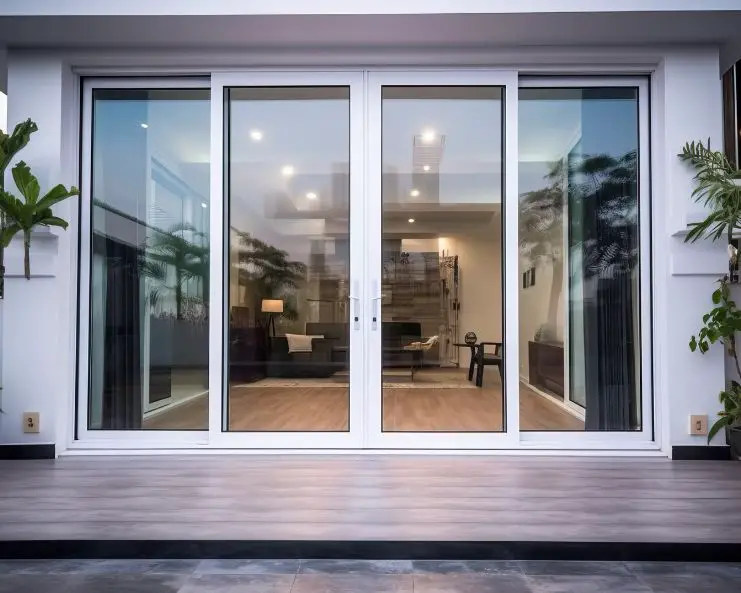 Choosing the right door for your house can greatly impact its appearance and functionality. The right door should be both aesthetically pleasing and functional. Follow along as we outline various types of doors that homeowners can consider for their homes and explore their features, pros and cons, and suitability for different kinds of homes.
Flush Doors
Flush doors create smooth, flat exterior surfaces, making them a versatile and modern option for any home. These doors are lightweight and inexpensive, so they can be an excellent choice for those looking for an affordable door option that maintains sophistication.
Pros of Flush Doors:
Minimalist and modern
Lightweight
Cost-effective
Cons of Flush Doors:
Limited design options
May not be suitable for all styles of homes
Glass Sliding Doors
Glass sliding doors are excellent for homeowners seeking to create an open and spacious feel. The glass panels maximize natural light while seamlessly transitioning between indoor and outdoor spaces. These doors are capable of withstanding heavy impacts with impact glass, which makes them a popular choice in homes that need extra security for storms.
Pros of Glass Sliding Doors:
Enhances natural light
Easy transition between outdoor and indoor spaces
Modern design
Cons of Glass Sliding Doors:
May require additional maintenance (cleaning)
Privacy concerns due to visibility
French Doors
French doors offer an elegant and classic option for homeowners looking to create a sophisticated ambiance. The history of French doors dates to the Renaissance period in France, and the aesthetic continues to charm homeowners to this day.
Pros of French Doors:
Elegant designs
Provide natural light
Excellent for separating spaces
Better security for the home
Cons of French Doors:
Costly if you choose intricate detailing
More difficult to install
Bifold Doors
Bifold doors consist of two or more panels that fold to save space when you open them. They're great for smaller spaces or saving room in your house, and they are easy to customize, ensuring they can suit any home's style.
Pros of Bifold Doors:
Space-saving design
Customizable
Versatile
Cons of Bifold Doors:
Require professional installation
Certain designs may not provide insulation
Barn Doors
Barn doors have gained popularity recently due to their rustic and unique designs. These doors slide open on a track and can add character to any room in the home.
Pros of Barn Doors:
Rustic and unique aesthetic
Easy to operate
Space-saving options
Cons of Barn Doors:
May not be suitable for all styles or layouts
May require additional hardware for installation
Homeowners have a wide range of door options that can enhance their homes' aesthetic and functional aspects. By considering the pros and cons of each option, as well as your home's specific needs, you can select the perfect door to suit your style and preferences. Don't hesitate to explore these possibilities to elevate your home's appeal and functionality.